Send and receive money in a smart & easy way

---
Ensure speedy transfers, globally!
We, at Bank of Baroda, offer easy and hassle-free Rupee remittance to India, via a few processes.
Banks play a vital role in the creation and management of individual and corporate accounts. Besides this, they also have another significant role of Transfer of funds. Thanks to the modern technological aids, transferring monies from an account in the USA to India is just so easy. We, from Bank of Baroda, specialize in offering a host of services on the pro-rata basis to aid the funds remittance to India from USA.
A Sneak Peek at the Remittance to India from USA Services
We, at Bank of Baroda, offer easy and hassle-free Rupee remittance to India, via a few processes.
Rupee Remittance India
SWIFT Transfer
Demand draft
International Wire Transfer
Why Choose Us
We, from Bank of Baroda, have an advantage of being one of the most experienced banks in the country. We have not just made banking easy but also offered services with great foresight and keeping in mind the lawfulness of the process. Whether someone wishes to transfer rapid funds to India from USA, or Correspondent bank transfer to India from USA, UK, or Brussels, we are there. We ensure swiftest transfers of funds with the least compunction to our clients across the world.
We provide the fastest mode of Outward Remittances to India and other parts of the world at the most competitive rates in the following modes:
---
Rupee remittance to India
Rapid Funds 2 India is for credit to Savings Bank / Individual Current Account / Fixed Deposit with Bank of Baroda in India.This Rupee Remittance is free of charge.
You can remit funds to Bank of Baroda (For credit to Any Other Type of account) as well as any other Banks (RTGS / NEFT enabled) For remittance to other Banks, 11 digit IFS Code and account number are required. Charges applicable for remittance to other Banks as per the RTGS / NEFT charges applicable in India from to time.
Disclaimer-RTGS / NEFT remittances are based on the account numbers provided and Bank of Baroda will not be liable for any loss due to mistake in account number provided by the Remitter.
---
Demand Draft
You can purchase Demand Drafts in the following Currencies
Indian Rupee Payable at any of our Branches in India.
US Dollars Payable at any of our Authorized Branches in India or Overseas
GBP Payable at our London Branch
EURO Payable at our Brussels Branch


Click here For Service Charges and Fees
---
Transfer by SWIFT
US Dollars To any Bank around the world through their US Correspondent Banks
GBP Through our London Branch
EURO Through our Brussels Branch
Click here For Service Charges and Fees
---
How to make Remittance under the above modes
One time Registration is required for using the above remittance services
Register your name with us. Please down load and fill the appropriate form

Remittance Registration Form (RRF-1) INDIVIDUALS
Submit the completed form with all the required documents to enable the Registration. We will allot you a registration number if the form is complete in all respects with its requisite attachments. Registration will be valid till expiry of the Photo ID proof submitted. You can e-mail scanned copy of the Remittance Registration Form with its attachments to newyor@bankofbaroda.com.

With the Registration number, you can submit the completely filled appropriate Remittance Form.
Please attach Personal Check or Cashiers Check (purchased from Remitters account) drawn in favor of BANK OF BARODA. Ensure that Remitters name is compulsorily printed on Cashiers Check. Remittance against cashiers check will be effected on the next business day and and Personal Check will take 6 working days including 5 days hold.
Cash is accepted at our counter up to USD 2500.00 during a 30 days period per remitter
Please mention your day time contact phone number in USA to contact in case of need
If any modification for the registration done is required, please submit the appropriate Registration Modification Form
---
International Wire Transfer through your Bankers
You can also make International Wire transfer to any of the Bank of Baroda Branches through Bank of Baroda, New York by providing the following information to your Bank
| | |
| --- | --- |
| SWIFT field 56 (Intermediary Institution)? | Credit to Bank of Baroda, New York SWIFT Code BARBUS33 or ABA number 026005322 |
| SWIFT field 57 (Account with Institution) | SWIFT Code of the Branch where you maintain the account or the nearest Branch (in India) from the LIST |
| SWIFT field 59 (Beneficiary Customer) | Beneficiary (14 digit Account number, Name & Address) Account with Bank of Baroda______Branch |
| SWIFT field 70 (Remittance Information) | Purpose of remittance |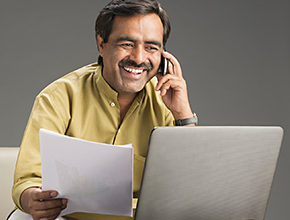 Request Callback
Please fill in these details, so we can call you back and assist you.